Recall that TonyWeb was caught red-handed selling child porn on the Exetools and other online forums like the BetaBBS (PhoenixBBS).
Now it appears that he has joined hands with well known criminals and terrorists like Gregory Morse to expand his illegal activities online.
Yesterday, Gregory Morse was found once again, posting a bunch of horse-shit on the Exetools forum regarding the IDA Pro and the watermarks in it. It is reproduced below: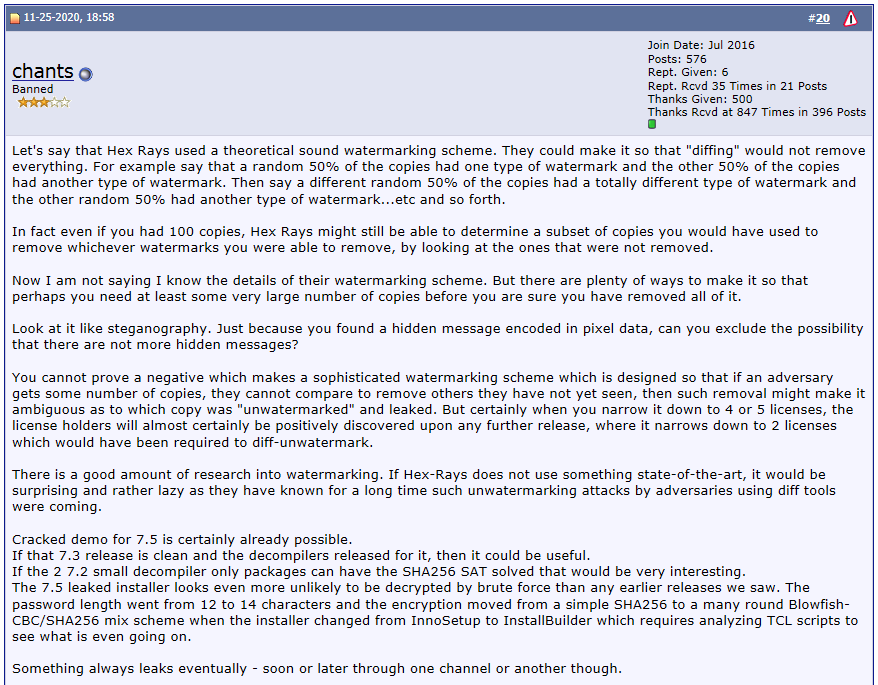 What did Gregory Moose (aka Chants) actually contribute to any online forum including the Exetools forum in the past 2 years?
Nothing except HOT AIR. HOT AIR , HOT AIR and nothing but MORE HOT AIR in regards to claims about hacking IDA PRO.
What is even funnier is the fact that the only persons who he manages to fool without any real output of quality work on his part, is the administrators of the Exetools forum who nod their heads knowledgeably pretending to understand all that hot air and bullshit from Gregory Morse (chants).
We already know how Gregory Morse (from Cleveland, Ohio) was forced to flee the United States a few years ago after his anti-FBI Propaganda on the Exetools forum in association with the Syrian terrorist Ahmadmansoor.
Even more childish and laughable is the fact how the administrators of the Exetools forum promoted the terrorist recruiter and sleeper cell specialist Gregory Morse to a VIP rank just to "provoke" the well known reverser who goes by the nick TechLord.
By promoting a wanted criminal to a VIP rank they do not realize the risk that they have subjected the rest of the members of the Exetools to!
Once again, the question begs itself and stares at us in the face:
Is there at least ONE contribution from Gregory Morse in the past 2 years that could justify his promotion to a VIP rank? Answer: NONE. No contributions. Just hot air.

A photo of Gregory Morse aka Chants can seen below: