This post is about the software pirate and software crack seller Tonyweb who owns and uses the tonyweb.xyz site and domain to peddle his wares, and not about the SINGER tonyweb who is a gentleman!
Tonyweb, while appearing to be a charming and mild mannered gentleman on the surface, actually hides a whole lot of evil and venom on the inside.
On nearly every online forum that he is a member of, one can easily see how Tonyweb shows off that he is a "ELITE" or an "ADVANCED" member by clearly making sure that his content is VISIBLE but not actually ACCESSIBLE to any member lower in the ladder than himself by using tags for his posts like "Can be accessed only by Moderators and Staff and VIP" and so on. He needs to do this so that he is always in the good books of just the staff, who otherwise would have banned him a long time ago.
He climbs up the social ladder in various technical online forums by brown nosing and licking the boots and arses of the staff until he gets a promotion to the elite areas of the board.
Once the access is gained to the private sections of the boards, he ensures that he is viewed as a "highly skilled" member by the community by dangling a carrot in such a way that everyone can see that he posted "something big" but without being able to actually benefit from it or at least access it.
Tonyweb needs to maintain this "image" that he is an elite cracker so that other unsuspecting members would try to approach him offline where he would THEN demand unreasonable fees in exchange for their requests.
Since most users are unable to afford his exorbitant fees, they agree to STRIP and/or do porn videos for him instead. This is the most common way in which he creates the porn videos that he then sells in various underground forums.
This Tonyweb, a cheap worm who preys on innocent and unsuspecting kids was already involved in various scams in his home country (Italy) and it was due to this criminal that many online boards were shut down.
Let me not go into the multiple counts of Financial Fraud that this user commits by selling cracked stock trading software which steals the users' personal details which he then uses to blackmail and extort, if they are adults OR, just ask them to create porn videos if his victims are young girls.
These are the contact details that this criminal Tonyweb posts on his site for anyone interested in doing business with him: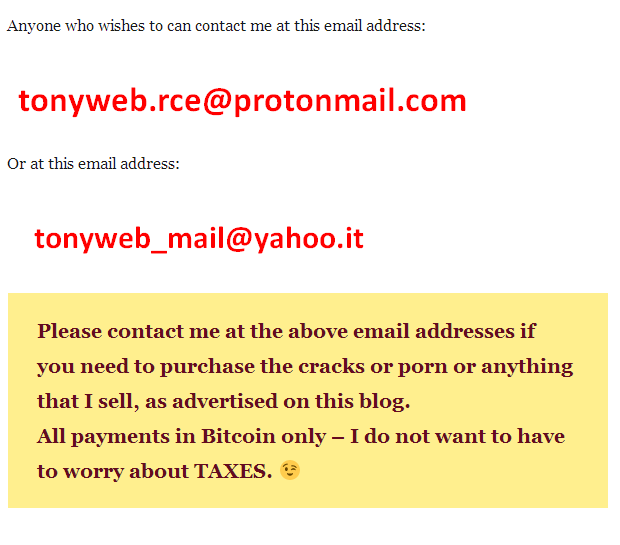 Lately he was touting on his site (https://tonyweb.xyz) that he was going to open another new online shop at this domain: tonyweb.shop where he claimed that he was going to sell "ELITE" software pilfered off from private sections of B4A.